Last updated on January 4th, 2022
Best Cloud Computing Companies in the World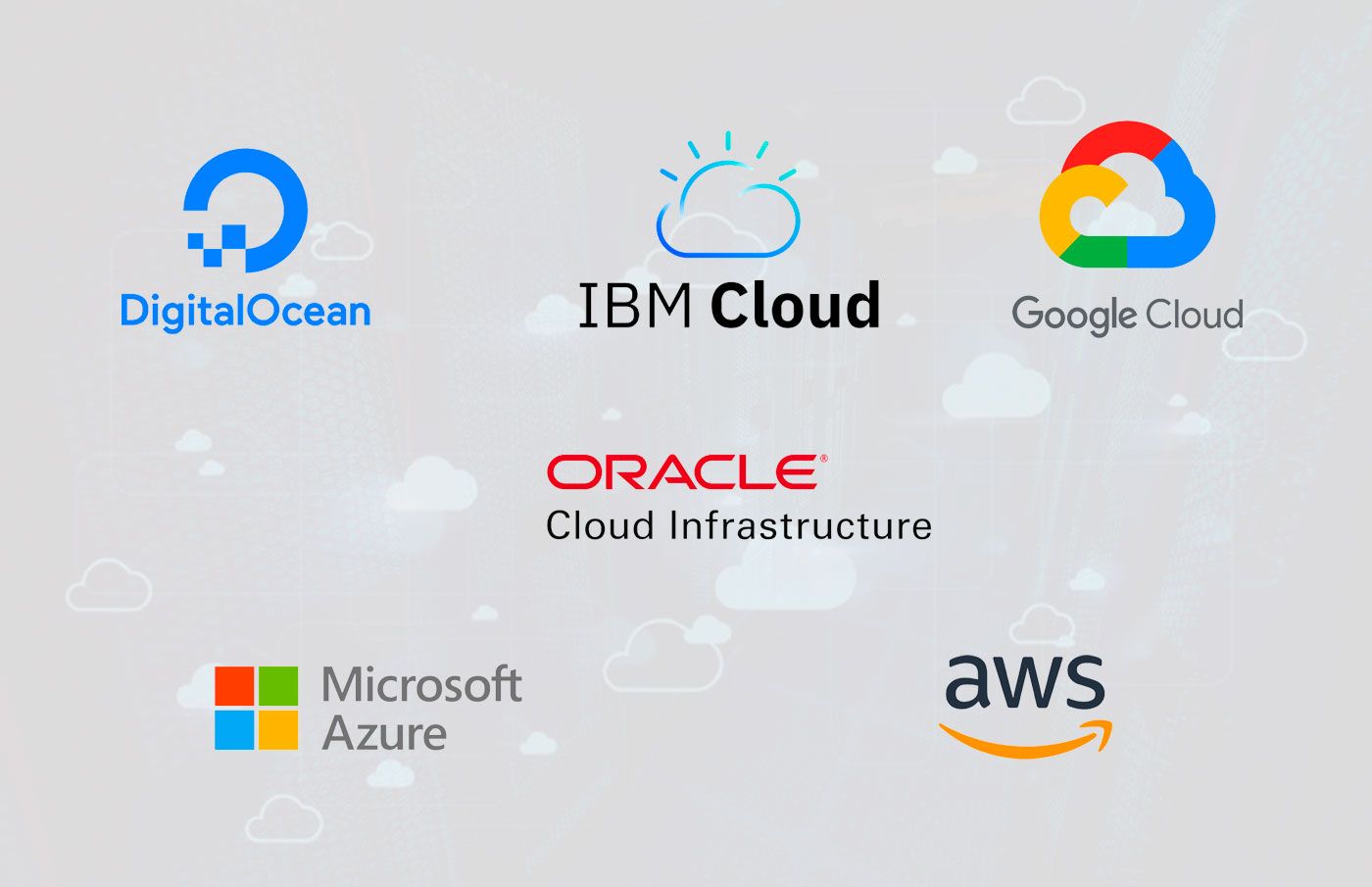 Cloud computing is a general term for a group of technologies that allow online services and applications to be delivered over the internet. Cloud computing is a type of Internet-delivered software as a service. Cloud computing became popular in the early 2000s, as networks were greatly improved and the power of hardware grew.
It has been predicted that from 2018 onwards, organizations will spend more on cloud solutions than on traditional IT solutions. The number of enterprises who will use the cloud is also expected to increase by 50% over the next five years. This article will highlight some best cloud companies across the globe and what they offer their customers.
What is Cloud Computing and Why Does it Matter?
Cloud computing is a type of internet-based computing that provides shared resources and services to computers and other devices on demand.
Cloud computing is a more affordable, on-demand solution for your IT needs that can be offered as a public, private, hybrid or community cloud. It's not just ideal for large enterprise organizations; it can also be used by SMBs and start-ups too.
Cloud computing is an information technology (IT) service that provides shared resources and services to providers and consumers of the service over the internet without requiring any local hardware or infrastructure. This enables businesses to avoid IT infrastructure costs such as hardware, software licenses, energy consumption, floor space and capital expenditure – all without sacrificing up-time or location independence.
Below are the some best cloud computing companies in the world.
1. Amazon Web Services (AWS)
Pricing: 12 Months Free
Amazon is a leading e-commerce company, but AWS is their fastest growing business. With the launch of Amazon EC2, Amazon S3, and Amazon RDS in 2006, AWS has grown to be one of the largest cloud providers in the world.
Amazon Web Services (AWS) is the world's most comprehensive and broadly adopted cloud platform, offering over 200 fully featured services from data centers. AWS provides customers with the broadest set of deployment options, including 33 Availability Zones across 15 geographic regions.
---
2. DigitalOcean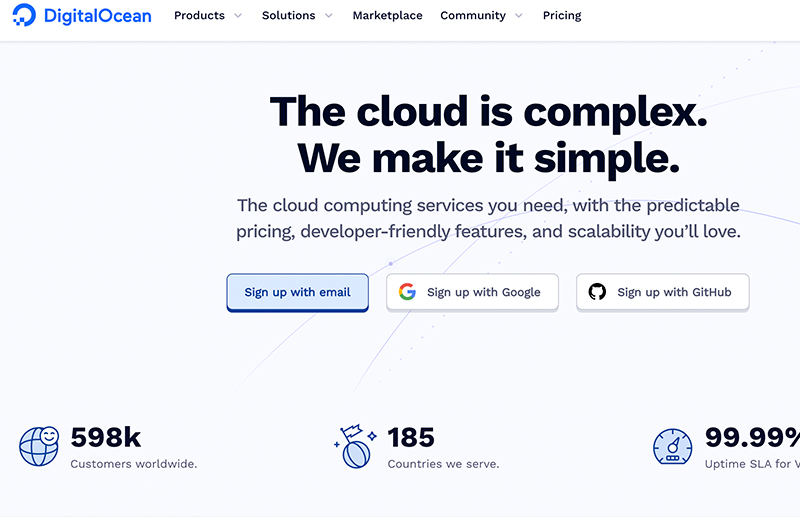 Pricing: Free credit active: Get started on DigitalOcean with a $100, 60-day credit for new users.
DigitalOcean is one of the world's leading cloud computing service providers. It offers the best value for money among other cloud computing services. It is also helped power over 1 million businesses in 190 countries around the globe.
The company was founded in 2011 by three ex-VMWare employees – Ben Uretsky, Mitch Wainer and Moisey Uretsky. The three co-founders were also its original technical staff members. The company achieved their initial success with the help of $3.8 million in angel investment from Jay Adelson, Halsey Minor and O'Reilly AlphaTech Ventures (OATV). DigitalOcean is currently headquartered at NYC's Pier 36.
---
3. Google Cloud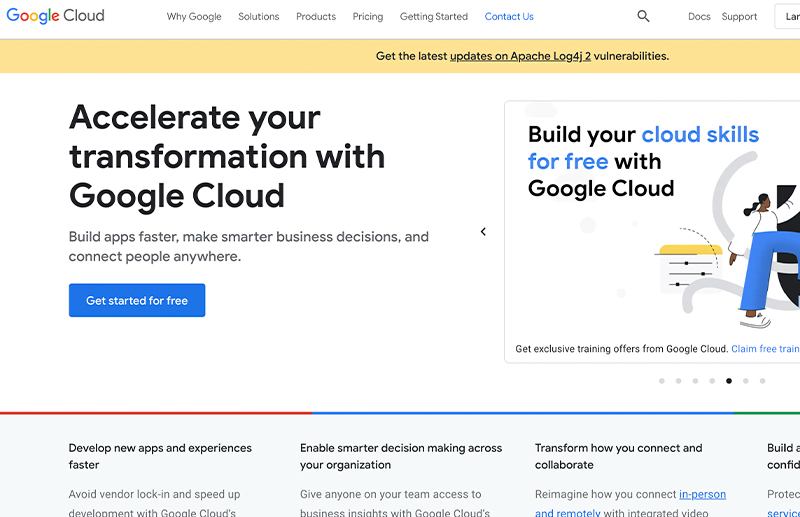 Pricing: Free Tier limits
Google Cloud protects your data, applications, infrastructure, and customers from fraudulent activity and spam with the same infrastructure and security services Google uses. It offers security insights that are tailored to your organization's needs. The insights help identify issues before they happen so you can manage them proactively.
Google Cloud Platform offers robust protection against abusive behavior by using machine learning to detect patterns in user activity.
---
4. Microsoft Azure
Pricing: Azure free account, 12 months
Microsoft Azure is a platform that gives us the opportunity to create data-driven apps, powerful machine learning services, and intelligent web applications that can scale both on-premises and in the cloud.
Azure allows developers to build, grow, and run their applications on a highly reliable cloud platform. Microsoft Azure offers an open environment with 120+ serverless computing services for building any application. Microsoft Azure also provides enterprise level security.
---
5. IBM Cloud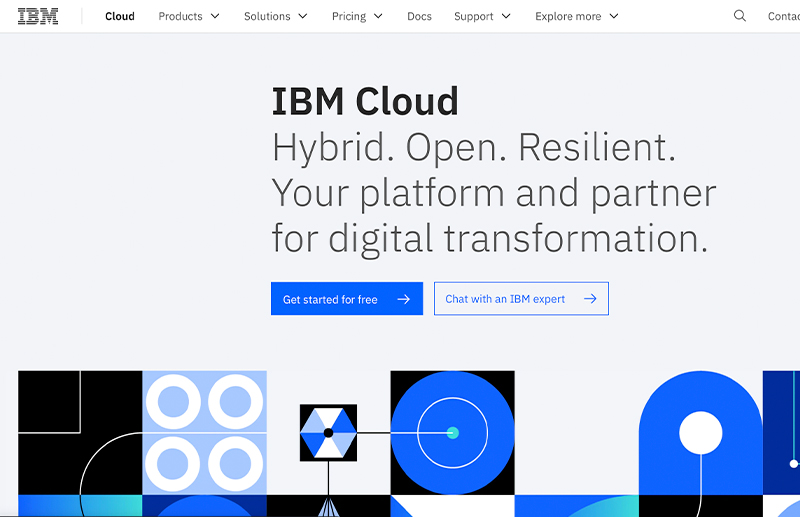 Pricing: Free Tier
The IBM Cloud is a cloud computing platform with a Serverless Infrastructure and includes platform as a service (PaaS) with infrastructure as a service (IaaS).
IBM Cloud is highly scalable and supports the needs of both small development teams and large enterprise businesses. It also provides an integrated set of enterprise-grade services and security and compliance capabilities that can help organizations achieve their mission-critical objectives.
---
6. Oracle Cloud Infrastructure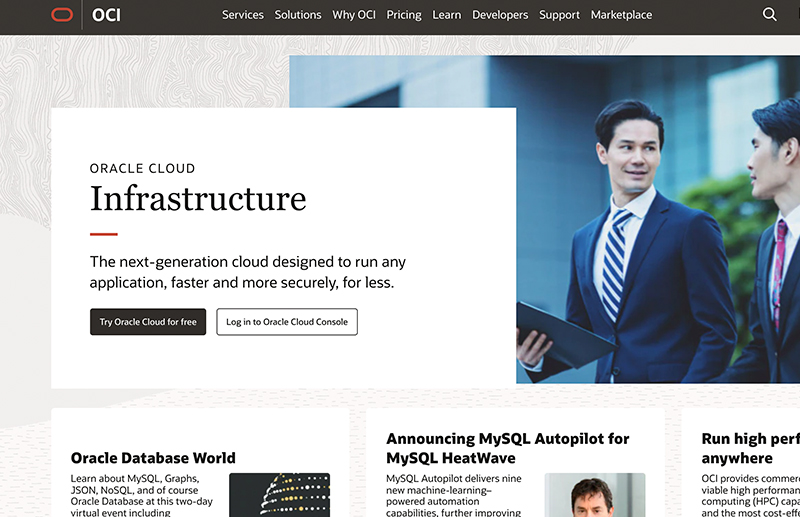 Pricing: Oracle Cloud Free Tier
Oracle Cloud is a cloud computing service offered by Oracle Corporation. It provides servers, storage, network, applications and services through a global network of Oracle Corporation managed data centers.
With the help of Oracle Cloud, companies can save time and money as they only need to purchase the cloud service that they use. The Oracle Cloud provides a suite of products which include: SaaS (software as a service), PaaS (platform as a service) and IaaS (infrastructure as a service).
---
7. Alibaba Cloud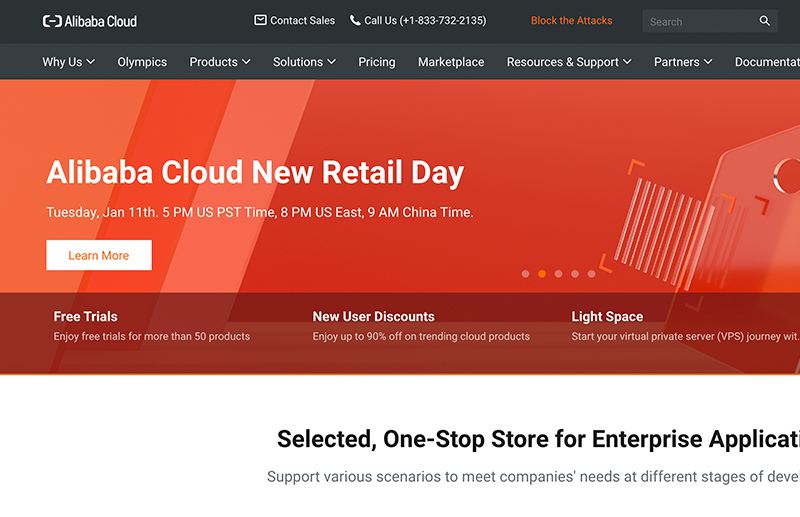 Pricing: Alibaba Cloud Free Trial
Alibaba Cloud is a subsidiary of Alibaba and is the largest public cloud computing company in China and Asia Pacific. Alibaba Cloud's main products and services include network security, storage, Big Data analytics, artificial intelligence (AI), Internet of Things (IoT), and hybrid cloud services.
It offers four types of cloud solutions: IaaS (Infrastructure as a Service), PaaS (Platform as a Service), SaaS (Software as a Service) and IaaAS (Infrastructure-as-a-Service). Alibaba Cloud provides both domestic and international businesses with one-stop solutions for their IT infrastructure needs.
---
8. Kamatera Cloud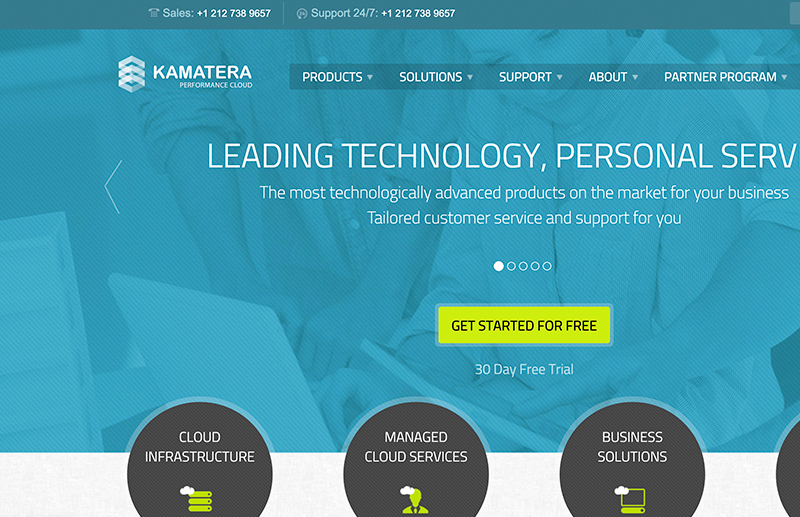 Pricing: 30 Day Free Trial
The Kamatera Managed Cloud is an add-on service whereby we manage your cloud infrastructure for you, allowing you to enjoy the benefits of cloud computing without having to actively maintain a relatively complex computing system. With this service, we take care of all the upgrades and security updates for you!
Kamatera Managed Cloud is a type of cloud that you can use to store and manage your data in a more secure and efficient way. You can have the tools that are needed for this service set up automatically, so that you don't have to worry about maintaining them yourself.
---
9. Vultr Cloud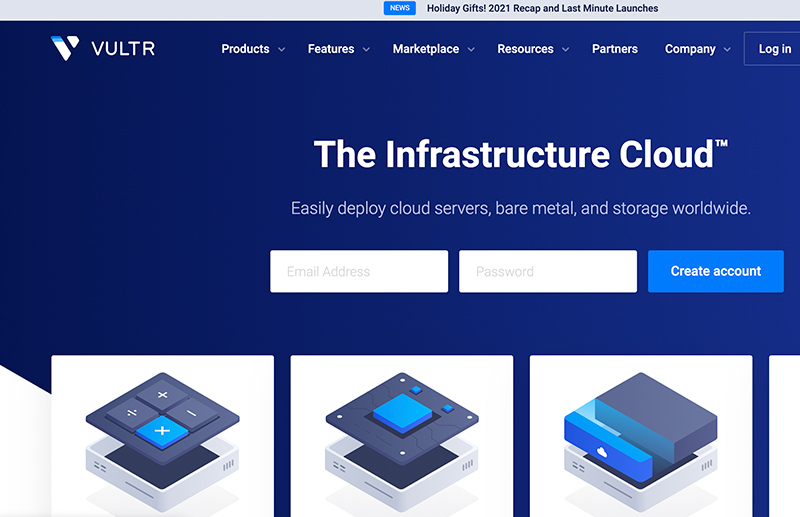 Pricing: Try Vultr for free with $50 free credit!
Vultr is a company that provides a cloud computing platform to enable developers and businesses deploy and scale their applications. Vultr is strategically located around the globe in 20 datacenters to ensure its customers enjoy the best latency possible.
This is US-based company that was founded in 2014. They are on a mission to empower developers and businesses by simplifying the deployment of infrastructure. Vultr offers server locations around the globe, so they have an edge over their competitors when it comes to latency. The company also offers frictionless provisioning of public cloud, storage, networking services plus the most popular DevOPS tooling applications.
---
10. Cloudways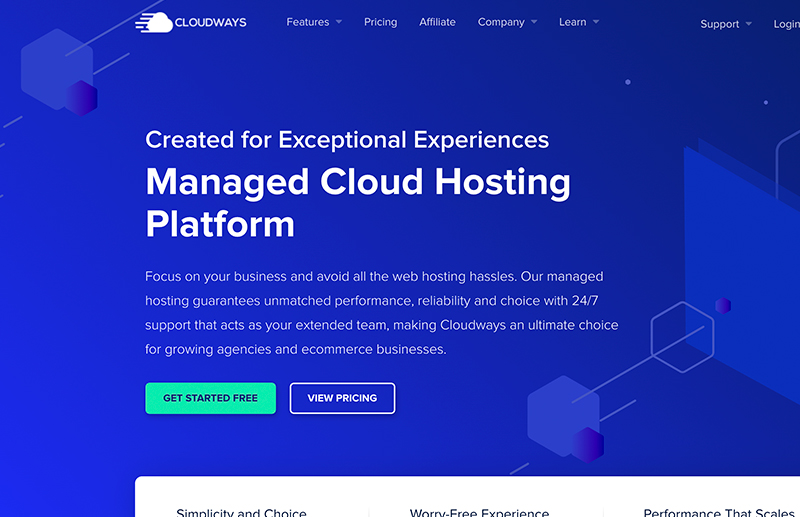 Pricing: Start Your Free Trial (No credit card required)
Cloudways is a managed hosting company. They take away all the hassles of servers and applications by simplifying the process. Cloudways arose out of the need for an enterprise-grade, scalable, user-friendly platform for hosting websites which would be cost effective and easy to use.
It was launched in 2012 with a single KVM-based server with plans to launch more plans like VPS and DDoS protection over time. This cloud hosting provider only offers shared hosting solutions on its subscription plans, but they are all scalable which is what makes it different from other providers who offer custom solutions like WordPress or Magento installation before you buy any package or scale up your plan.
Conclusion:
Cloud Computing is a technology that allows a user to access information from a remote location, rather than a local device. These days, small and medium-sized businesses are opting for Cloud Computing solutions to store their data rather than having it hosted on their own servers.
Large enterprises have embraced the shift in data storage locations because of the savings in upfront capital expenditure and operational costs. They also benefit from improved agility, scalability, and accessibility to data. It's safe to say that Cloud Computing is here for good!
Alibaba CloudAWSAzureCloud HostingCloudwaysDigitalOceanGoogle CloudHostingIBM CloudKamatera CloudMicrosoftOracleVultr Cloud
Aroound
aroound.com is a blog website with the aim to provide you the latest information around world. It helps you find the most relevant blogs on any topic.
Don't miss on latest updates